Ep.14 – Benefits Planning Series Part 2
Impact of Work on Social Security Income (SSI)
8 months ago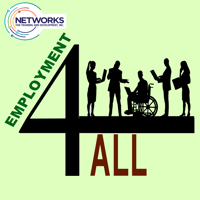 Understanding You Benefits Series Part 2
The Impact of Work on Social Security Income (SSI)
Recording Date
September 9, 2020
Transcript:
Download transcript here https://bit.ly/315OSYT
Introduction
Join Suzanne Erb and Martine DeLorenzo (Disability Rights PA) for an overview of what to expect when you receive SSI benefits and enter the workforce.
Topical Index
Introduction [00:00]
What Is SSI / What Should I Do if I Start to Work [01:16]
How Much Can I Earn and Still Receive SSI? [03:34]
What Happens to My Medical Benefits? [05:13]
What Should I Do to Prevent Problems with My SSI Benefits? [05:58]
How Do I Report My Earnings? [06:33]
There's An App For That [08:05]
Report Monthly / Inform SSI if You Stop Working [08:15]
Closing [10:20] Subscribe to Our Podcast
Find out more at https://networks-employment-for-all-po.pinecast.co
This podcast is powered by Pinecast.