Ep.4 – Pop-Up Employment Forum - 4/1/2020
a year ago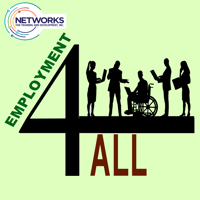 Episode 4: Pop-up Employment Forum
Navigating Unemployment During Covid-19
Recording Date:
April 1, 2020
Transcript:
Download available here: https://bit.ly/2Xl27ng
Keywords: employment forum, unemployment, unemployment insurance, benefits, unemployment and Covid-19, employment support, supported employment, Covid-19 employment support resources, employment support during Covid-19
Episode summary: This Q & A session was provided for Philadelphia Area Supported Employment providers in response to the Covid-19 health crisis. The purpose of this forum was to provide support and guidance to employment providers as they struggle to continue to meet the needs of job-seekers and workers with disabilities during this time. In this episode, topics including unemployment and its impact on social security benefits. We hope you find these resources helpful. The forum will be scheduled weekly throughout the business restrictions related to the Corona virus. If you wish to join these calls, click the Join Our Mailing List link below to be notified of upcoming sessions
Links to Resouces:
Subscribe to our podcast:
Find out more at https://networks-employment-for-all-po.pinecast.co
This podcast is powered by Pinecast.