Ep.11 – Pop-Up Employment Forum 5/13/2020
Upcoming Reverse Job Recruitment Event
a year ago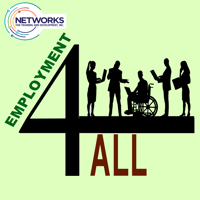 Episode 11: Pop-up Employment Forum 5-13-2020
Upcoming Reverse Recruitment Event
Recording Date: May 13, 2020
Transcript:
Download available here: https://bit.ly/3fawp1S
Keywords: employment forum, reverse recruitment, reverse job fair, job fair, employment support, supported employment, Covid-19 employment support resources, employment support during Covid-19
Episode summary: In this episode, Allison Smale from Kencrest shares information about an upcoming Reverse Job Recruitment event. Tune in and find out more about the event and ways that you can help job seekers and businesses get matched!
Links to Resources:
Calls-to-action: Subscribe to our podcast
---
Find out more at https://networks-employment-for-all-po.pinecast.co
This podcast is powered by Pinecast.