Ep.10 – Pop-up Employment Forum 5-6-2020
APSE (Association for People Supporting Employment First) Update
a year ago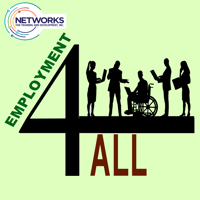 Episode 10: Pop-up Employment Forum 5-6-2020
APSE (Association for People Supporting Employment First) Update
Recording Date: May 6, 2020
Episode transcript: Available for download here: https://bit.ly/37laTEW
Keywords: employment forum, APSE, employment support, supported employment, Covid-19 employment support resources, employment support during Covid-19
Episode summary: In this episode, Erica Belois-Pacer, Professional Development Director at National APSE shares news about the upcoming APSE Conference set to kickoff June 16th and June 17th. Erica also shares information and resources from the APSE website including information regarding upcoming webinars, professional development opportunities and CESP certifications.
Links to Resources:
Calls-to-action: Subscribe to our podcast
Find out more at https://networks-employment-for-all-po.pinecast.co
This podcast is powered by Pinecast.